Tuxedo
To Tux or Not to Tux.
Is that the question?
Most senior proms are formal occasions and the usual dress for the guys is a tuxedo (they have tuxedos for girls also). Lately, some of the Junior Proms are a little less dressy and a suit or sport coat will do.
Now that we have covered that.
What is best for you?
Tuxedo rental, for the most part, is the easiest way to go. You go in (early), get fitted, pay your deposit, pick the tux up before the prom or dance, try it on, pay the balance, wear it to the event, and return it. There are a whole myriad of styles, color, and options and you can feel like a king for a day. Tuxedo rental will fill the bill for the formal prom and, in the case that you do not own a suit, it will fill the bill for a less dressy occasion.
There are Options
If you are attending more that one prom, you might consider buying a tuxedo. Some of the Formal Wear Shops do sell tuxes and this might be a little more expensive in the beginning, but it might be less expensive in the long run.
You might consider buying a dressy suit that would fill the bill for the prom and you have the suit to use for other occasions in the future.
Some of the more unusual options that we have seen at proms include custom made suits that match the material of the date' dress, sixties style "costumes", and styles from the forties. All of these take quite a bit of planning and work to come off well.
Fashion Show
Some of the Formal Wear Shops will set up a Formal Wear Fashion Show at your school. This will heighten the excitement for the upcoming prom and give you an idea of what is available. In addition, many companies will also give your school discount coupons on formal wear rental. Your Prom Committee should contact a few different companies to see what is available.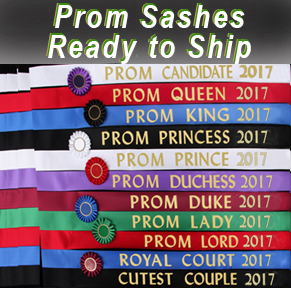 Copyright © 2016 by proms.net. All rights reserved.
Revised:8 March 2016 06:54:38 -0500 .


Phone: 716-823-9123
FAX: 716-824-5186