Order Procedure
Use the appropriate order form for each item, ticket, memory book, napkin, royal sash, or ribbons for stuffed animals. Fill out the payment order sheet with the totals of all your order sheets. These order forms are available as a Word file (http://www.proms.net/order.doc), or an Adobe Acrobat file (http://www.proms.net/order.pdf).

If you are ordering by mail:

Fill out the order sheets and print them out. Be sure to include your email address so we will be able to keep you informed on the status of your order.

Send your order in with your check if you want to take advantage of our free ground shipping within continental US.

Send to: proms.net
2394 Seneca Street
Buffalo NY 14210-2650

We do ship COD or from a purchase order confirmed by your school. Fill out the appropriate information on the payment order sheet.

Original artwork for the memory book, ticket, napkin or ribbons must be black on white, any size (we will reduce to fit), and must be included with your order.

Usually within a day, we will have a proof of your order that we will FAX to you.
We are turning orders around in 7 in house days for imprinted items - 1 day for Sashes.

Once we get your confirmation and/or corrections on the proof, we will start the production of your items and will be able to give you a shipping date.

When your items are shipped, we will send you an email confirming the shipping date and the carrier.

If you are ordering by email:

Due to a large volume of spam - we are unable to take orders by email.
If you choose to have your order shipped COD or through a school purchase order, print out and FAX (716-824-5186) or mail (proms.net, 2390 Seneca Street, Buffalo NY 14210-2650) only the signed payment order sheet, so that we may confirm the order.

If you are using artwork for the memory book, ticket, napkin, or ribbons, it must be black on white and this must be scanned in as a jpg at 300 dpi and attached to your email. If you are unable to scan, you will have to mail in the original.

When we receive your order we will send an email to confirm the receipt. When we receive your check and/or FAX or mail authorization, we will confirm that and begin your order. At this time we may ask for some clarification if we have a question on any part of your order.

Sales Terms: We will ship open account to any school providing the order is authorized by an advisor or the principal and we have a hard copy of the Payment Order Form

Open Account Terms: Payment due 30 days from date of invoice. A 1 1/2% monthly charge (18% annual rate) will be added to past due accounts. A service charge of $ 15 will be charged on any returned check.

Shipping: All merchandise should be opened and inspected as soon as it arrives. Shortages or items that have been damaged in shipping should be reported immediately to Customer Service at 716-823-9123.

Shipping Charges: Actual shipping, and handling costs will be added to your invoice. If a check (free shipping does not apply with COD or Open Account) accompanies the order, we will pay all ground transportation charges within the continental United States.

Returns: Returns are subject to a 15% restocking charge. Personalized items cannot be returned.

Submitted Material: The submission of any order constitutes a representation and guarantee by the individual or entity submitting the order that such individual or entity is the owner of all trademarks or copyrighted material contained therein or has obtained any required consents or authorizations from the owner(s} to print such material.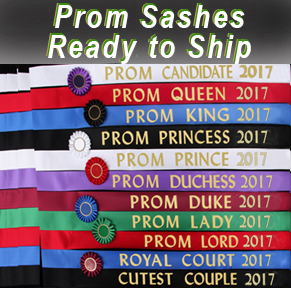 Copyright © 2016 by proms.net. All rights reserved.
Revised: 08 Mar 2016 19:53:22 -0500


Phone: 716-823-9123
FAX: 716-824-5186