Decorating Tips
There are many inexpensive ways to decorate the prom site. Balloons are a perennial favorite.
They can be used as archways, on tables, over the dance floor (to create the illusion of a lower ceiling), and on the walls. Helium-filled balloons will only stay afloat for 5 - 10 hours, while compressed-air balloons will hold air for days. If you are planning on using helium balloons you may be better off contracting a balloon company to help with your decorations.
Keep in mind, balloons come in a variety of sizes and colors. Imprinted balloons, available in lots of 500, can be used, as well, for other functions throughout the school year.
Your Memory Books and imprinted napkins will also add to the decor.
Enlist the aid of the shop teachers, art teachers, and design teachers to help with ideas and the knowledge to bring the ideas to finished designs.
Bookmark this page for more decorating tips.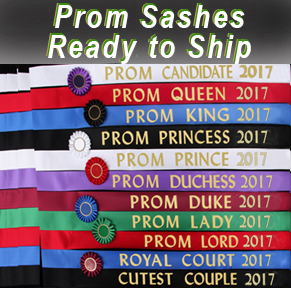 Copyright © 2016 by proms.net. All rights reserved.
Revised: 08 Mar 2016 18:51:22 -0500 .


Phone: 716-823-9123
FAX: 716-824-5186